Shopping Cart
Your Cart is Empty
There was an error with PayPal
Click here to try again
Thank you for your business!
You should be receiving an order confirmation from Paypal shortly.
Exit Shopping Cart
Stay a while...See a lot!
Private personalized tours of Saint John and surrounding area.

| | |
| --- | --- |
| Posted on September 2, 2013 at 2:47 AM | |
So you're coming out to explore in Saint John!
First of all, thanks for deciding to come out to play in Saint John!  So what do you need to know about the weather? I bet you have a dozen questions. What does one wear to walk on the ocean floor? Is it cold in Saint John? 

Saint John, being located right on the Bay of Fundy, experiences moderate weather year round. As the water in the Bay stays cold, between 31 degrees F and 34 degrees F, it has a moderating effect on the weather. In summer months, the cold water of the Bay of Fundy cools the warm summer winds, keeping the city 5-10 degrees cooler than just a few miles inland. In winter, it warms incoming freezing winds, keeping temperatures near a balmy 32 degrees F. The wind changes with the tides and a warm summer day can cool quickly, requiring outerwear to stay warm. Warm moist air reacting to the cold water can generate thick fog banks which have a dramatic effects on the air tempretures. If you are visiting in the fall, September is usually the best time for pleasant weather. Warm and sunny most days, it is cool at night making it comfortable for sleeping or enjoying a roaring campfire on the beach. In October, anything is possible! It is not uncomman to experiance brisk cold winds, rain or even freezing rain. In the latter part of the month, you may even experience the first snow flurries of the year! 
Visitors are advised that no matter how sunny and warm it may be when they arrive, bring a good coat or at least sweater and windbreaker with you, the weather can change quickly and without warning. As many tours focus on the beautiful coastal regions and sites, it is very common to experience gusts of fresh, cold, Bay of Fundy wind when close to the Bay.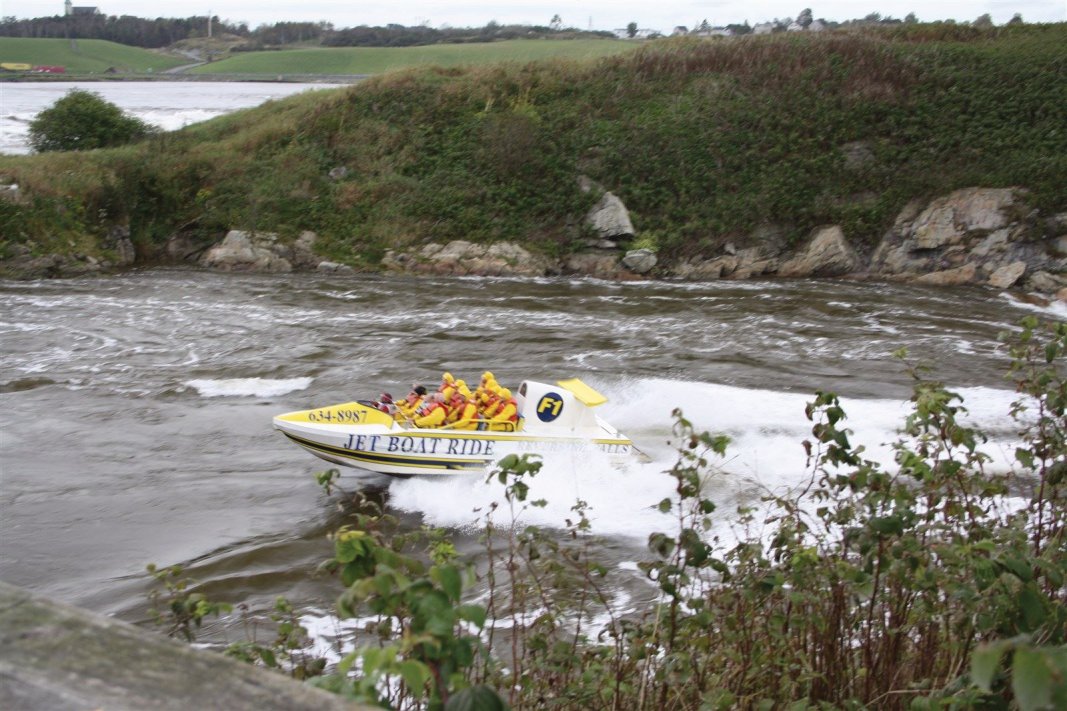 Those choosing to ride the Reversing Falls Jet Boats are in for a real treat! They are truly a thrill ride and though the operators offer protective raingear, they really are more efficient at keeping that 34 degree F water in rather than out! Make sure to bring along a change of clothing including those socks and undies! Having a high tolerance to the taste of salt water is a real benefit too! 
(Please note the Reversing Falls Jet Boats are not in operation for the 2014 Cruise Season, let's hope they are back in 2015!)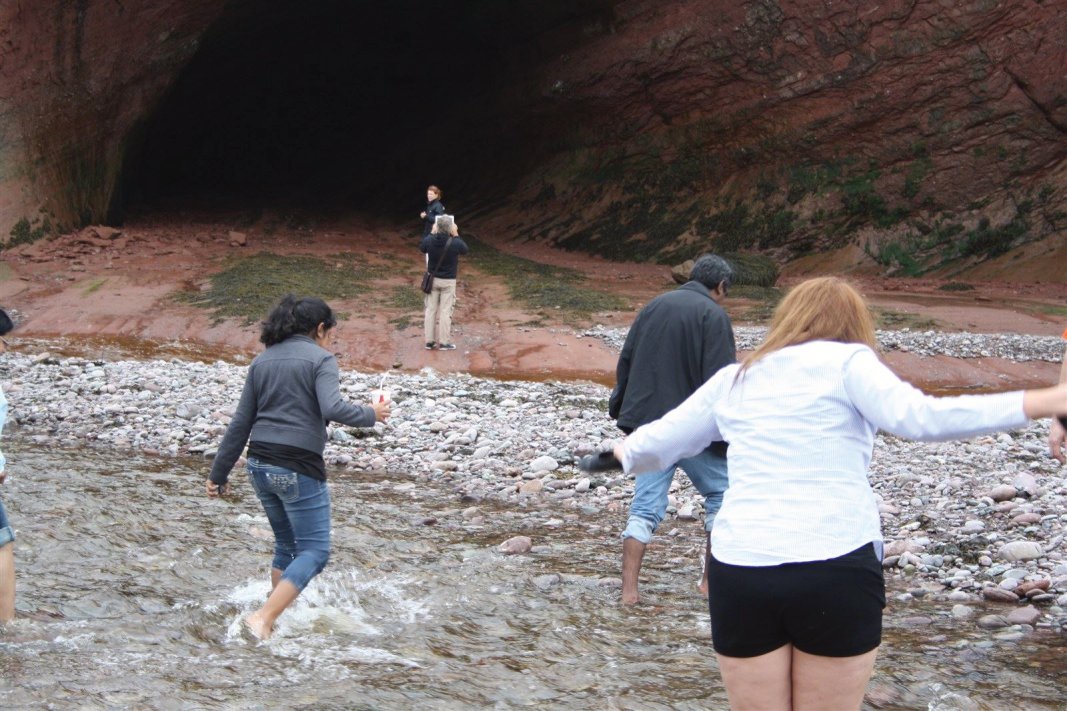 No visit to the Bay of Fundy is complete without a walk on the Ocean floor! So what does one wear? You can expect to get your shoes mildly soiled with red mud. At St. Martins, if you wish to explore the Sea Caves, you will be required to cross loose beach gravel to a small stream, about 8 inches deep, so wise travellers bring "water shoes" or are prepared to go barefoot.  No worries, the stream is not near as cold as the Bay! As for exploring the beach and caves, a pair old sneakers or closed toe, low heeled shoes are best.  Ladies, forget those Italian Pumps or flimsy flip flops back on the ship!  Many of your predecessors have returned aboard with only one flip flop after they came off in the swift waters of the stream headed out to sea! There are also rocky shelves covered in forests of seaweed to climb about, so most find the wet seaweed does not result in a pleasant experience when being dragged between ones toes!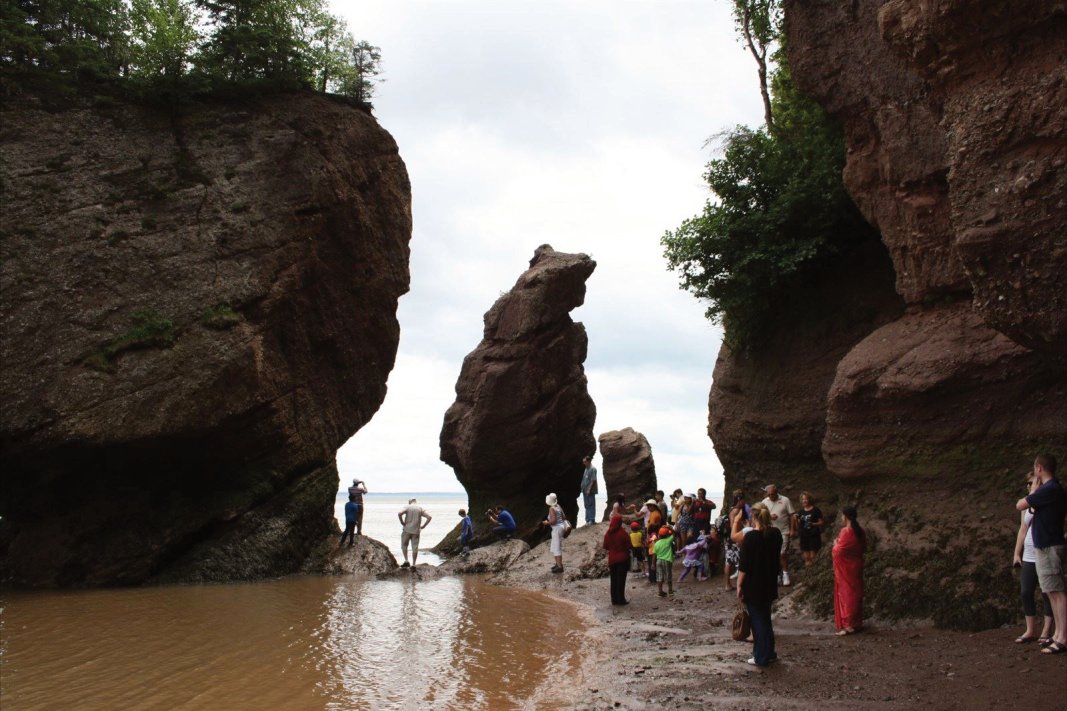 At the Hopewell Rocks you can expect the ocean floor to be a mildly messy place. Easily accessed by a steel staircase, the ocean floor has a mixture of red silt and stone. Closed walking shoes, something you can rinse or wipe off is good. Again, having an extra layer of clothing with you may save your day, so come on out and play, but be prepared!




One thing to remember when visiting the Bay of Fundy, that world famous tide is always on the move! Be careful to watch that water when you visit it's edge. It comes in surprisingly fast and can often sweep in and around behind you. One must be vigilant to make sure you do not become cut off from your way back to dry land! A wise traveller is always mindful of where they leave thier belonging too, least they end up offering a sacrifice to the Great waters of the Bay of Fundy!




Categories: Outdoor Adventure, Site Seeing, Tourist Sites

0

/