Shopping Cart
Your Cart is Empty
There was an error with PayPal
Click here to try again
Thank you for your business!
You should be receiving an order confirmation from Paypal shortly.
Exit Shopping Cart
Stay a while...See a lot!
Private personalized tours of Saint John and surrounding area.

I recieved the following question from one of my passengers and thought hey, I bet alot of people would appreacaite this story!

On 2014-09-29 13:42, Grann wrote:
Hi Dave,
Thanks for the terrific tour and pictures.
Question – what is the reason for receiving the roses or flag pins (?) for men when we disembarked from the Gradeur of the Seas in Saint John. Couldn't remember the story and am putting together an album about the cruise.
Until later
Ann T. Thompson (the crab bag lady with Goetz's candy from Baltimore!!!)
Hi Ann;
Dave here, glad you enjoyed the tour and very happy you are using the pics!
15 years ago, the first cruise ship came into port seeking safe harbour from a massive hurricane called Floyd coming up the Atlantic Seaboard. Saint John was given only 12 hours to plan the welcome of the ship before its arrival. All hands were on deck working through the night to prepare for its arrival. Special busses were arranged by Saint John City Transit, the Taxi companies called in extra drivers and every rose in the city as well as a hoard of pins from City Hall was gathered together to be given out as small tokens of welcome and gratitude for the opportunity to host the ship and her passengers. Volunteer greeters we assembled and briefed to help the arriving passengers find their way on tours and answer questions. All through that night the welcome mat was woven readied to go as the ship sailed in. Locals were informed of the ships arrival on the morning airwaves and asked to be especially friendly and helpful to our surprise guests that would be carrying roses and sporting pins on their lapels'.
This welcome wagon was so successful, we have grown from that first ship, to approx. 80 ships each year, from those 3300 passengers to over 220,000 passengers annually. 
Today, the tradition of giving the Roses & Pins continues, to welcome our cruise guests, remind ourselves how fortunate we are to have this beautiful city to share and of course, they still identify our guests to the locals, so everyone gets a warm welcome!
Thanks for asking~

UPDATE: After 26 years there has been a new development with this long tradition. The Roses & Loyalist Pins have been replaced by a "Three Sisters Lamp" Pin instead. They are limited in number and each year a different Landmark will be reproduced and given to cruise passengers as the come ashore to play! Great Idea!
---
Dave 
Hello out there in vacationland!
The Cruise season is in full swing now with ships arriving almost daily! Our schedule is nearly full with only a few dates still available to host tours. Please act fast if you plan on booking a tour as we are selling out availability fast!
Of course as in years past our most popular tour is of the Top Sites of Saint John & St Martin's and the Bay of Fundy.This tour includes but is not limited to:
Pick up at Terminal 
St. Patrick's Memorial Park (Historical Site)
Tour of the Imperial Theater (Historic Theater, Harry Houdini performed here)
Fort Howe (Historical, Photographical and Scenic Site)
Reversing Falls (Natural Wonder)
Big Rig Launching Pad (Engineering Wonder)
Witch's Manor (Home of the Wicked Witch of the West) …really!
Carlton Martello Tower (National Historical Site of Canada)
Travel to St Martins along the coast of the Bay of Fundy->
Black River Harbour (Scenic)
Duck Pond Beach (Scenic Ocean Vista)
Lunch Break at The Caves (seafood)
The Fundy Trail (Scenic Toll Road, Natural beauty and Flower Pot Rocks)
The Sea Caves of St Martins (walk on Ocean floor)
Visit to St Martins twin Covered Bridges, the Harbour and one of the oldest lighthouses in Canada (you can climb to the top!)
Quaco Lighthouse high atop the Quaco Ledges overlooking Thurm Rock
-->Return to Saint John with a return visit to the Reversing Falls (the change in the river will be amazing).
Tour terminating either at your Cruise Terminal or the City Market (recommended as it allows you to meander back to the ship through the heart of historic Saint John, only 3 blocks from the ship!)
Hope to see you soon, till then may you have calm seas and fair winds!
So you're coming out to explore in Saint John!
First of all, thanks for deciding to come out to play in Saint John!  So what do you need to know about the weather? I bet you have a dozen questions. What does one wear to walk on the ocean floor? Is it cold in Saint John? 

Saint John, being located right on the Bay of Fundy, experiences moderate weather year round. As the water in the Bay stays cold, between 31 degrees F and 34 degrees F, it has a moderating effect on the weather. In summer months, the cold water of the Bay of Fundy cools the warm summer winds, keeping the city 5-10 degrees cooler than just a few miles inland. In winter, it warms incoming freezing winds, keeping temperatures near a balmy 32 degrees F. The wind changes with the tides and a warm summer day can cool quickly, requiring outerwear to stay warm. Warm moist air reacting to the cold water can generate thick fog banks which have a dramatic effects on the air tempretures. If you are visiting in the fall, September is usually the best time for pleasant weather. Warm and sunny most days, it is cool at night making it comfortable for sleeping or enjoying a roaring campfire on the beach. In October, anything is possible! It is not uncomman to experiance brisk cold winds, rain or even freezing rain. In the latter part of the month, you may even experience the first snow flurries of the year! 
Visitors are advised that no matter how sunny and warm it may be when they arrive, bring a good coat or at least sweater and windbreaker with you, the weather can change quickly and without warning. As many tours focus on the beautiful coastal regions and sites, it is very common to experience gusts of fresh, cold, Bay of Fundy wind when close to the Bay.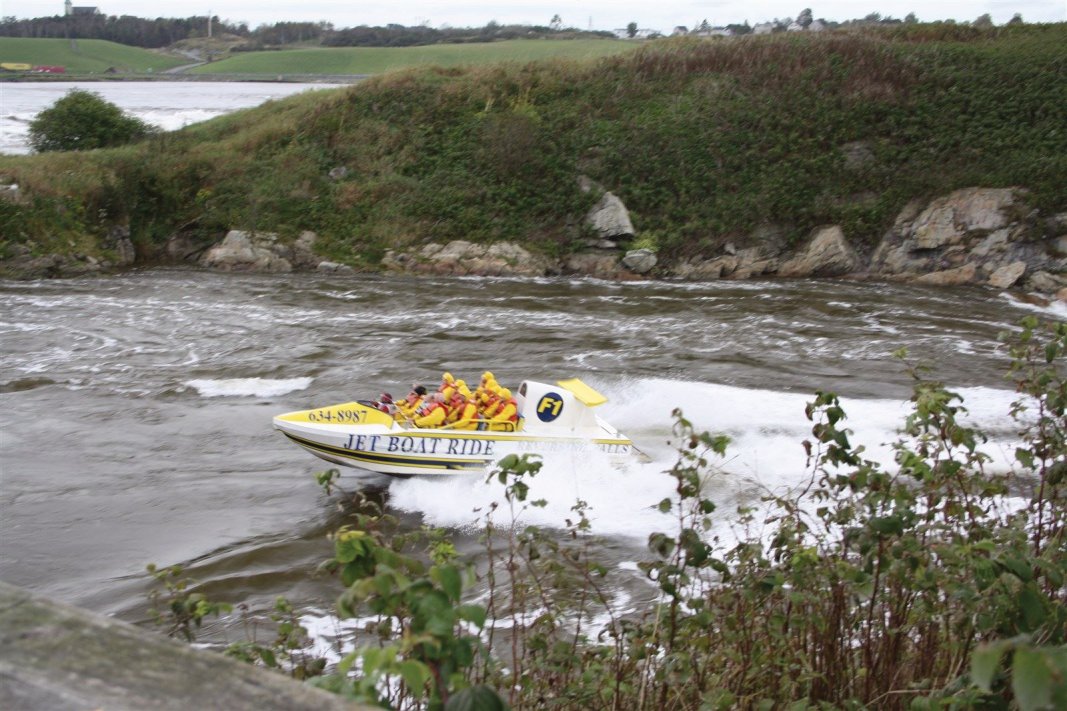 Those choosing to ride the Reversing Falls Jet Boats are in for a real treat! They are truly a thrill ride and though the operators offer protective raingear, they really are more efficient at keeping that 34 degree F water in rather than out! Make sure to bring along a change of clothing including those socks and undies! Having a high tolerance to the taste of salt water is a real benefit too! 
(Please note the Reversing Falls Jet Boats are not in operation for the 2014 Cruise Season, let's hope they are back in 2015!)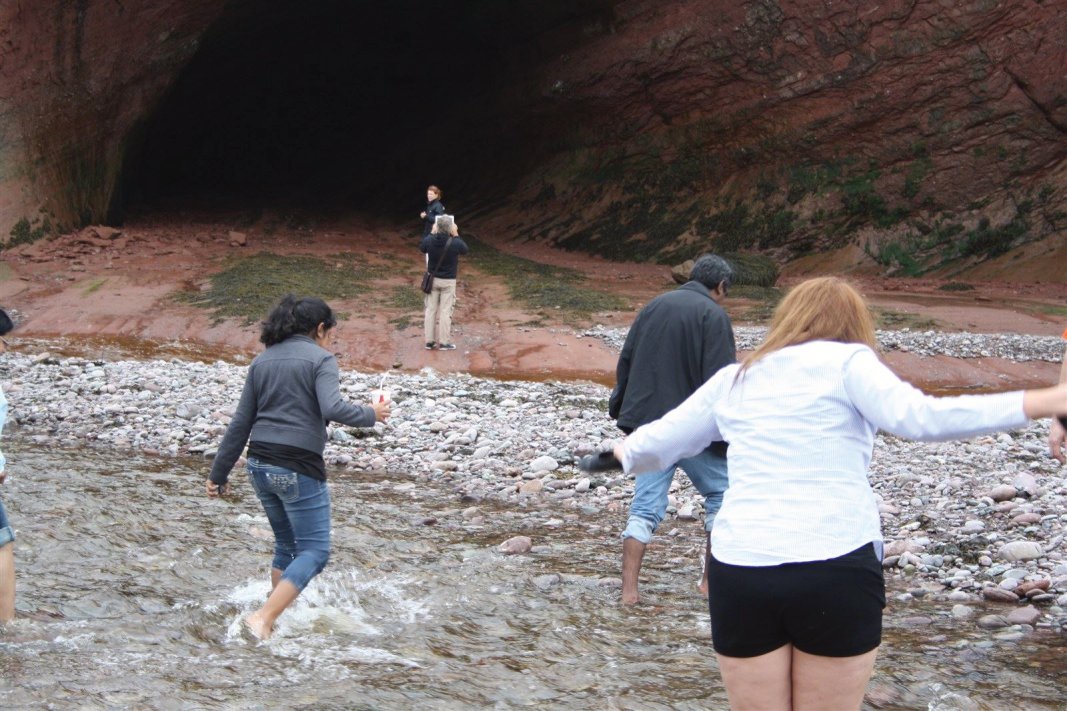 No visit to the Bay of Fundy is complete without a walk on the Ocean floor! So what does one wear? You can expect to get your shoes mildly soiled with red mud. At St. Martins, if you wish to explore the Sea Caves, you will be required to cross loose beach gravel to a small stream, about 8 inches deep, so wise travellers bring "water shoes" or are prepared to go barefoot.  No worries, the stream is not near as cold as the Bay! As for exploring the beach and caves, a pair old sneakers or closed toe, low heeled shoes are best.  Ladies, forget those Italian Pumps or flimsy flip flops back on the ship!  Many of your predecessors have returned aboard with only one flip flop after they came off in the swift waters of the stream headed out to sea! There are also rocky shelves covered in forests of seaweed to climb about, so most find the wet seaweed does not result in a pleasant experience when being dragged between ones toes!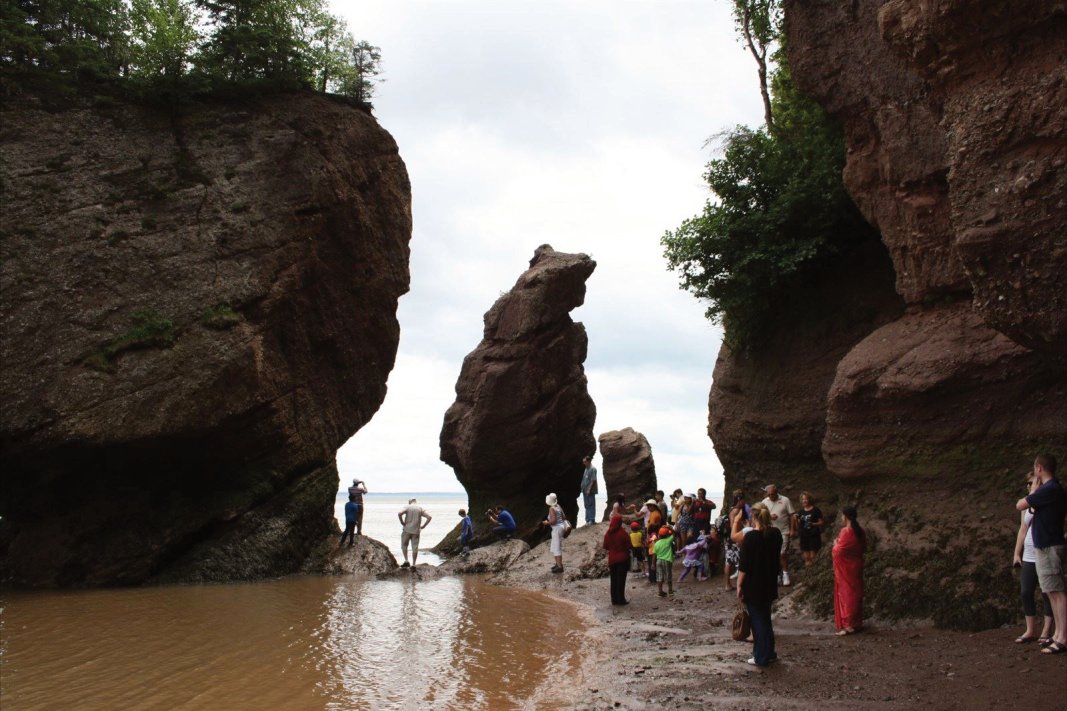 At the Hopewell Rocks you can expect the ocean floor to be a mildly messy place. Easily accessed by a steel staircase, the ocean floor has a mixture of red silt and stone. Closed walking shoes, something you can rinse or wipe off is good. Again, having an extra layer of clothing with you may save your day, so come on out and play, but be prepared!
One thing to remember when visiting the Bay of Fundy, that world famous tide is always on the move! Be careful to watch that water when you visit it's edge. It comes in surprisingly fast and can often sweep in and around behind you. One must be vigilant to make sure you do not become cut off from your way back to dry land! A wise traveller is always mindful of where they leave thier belonging too, least they end up offering a sacrifice to the Great waters of the Bay of Fundy!
USA Today has discovered The Bay of Fundy! Posted on June 27, 2013 USA Today story listed the Bay of Fundy as one of its picks for Top 10 Road Trips in North America. In part the story reads:
 " Fundy Coastal Drive, New Brunswick
Distance: 220 miles from St. Andrews to Moncton
New Brunswick's Bay of Fundy is home to the world's most extreme tides, and there's no better way to see them than on a scenic drive along the province's coastline. Begin in St. Andrews, a lovely seaside resort town where art galleries, shops, and a luxuriant public garden make up the downtown area and kayak and whale-watching tours line the cove. Continue along the coast to Saint John, stopping at the Saint John City Market for local crafts and regional specialties like dulse, edible seaweed that is dried, flaked, and used as seasoning.
About an hour outside of Saint John, the Fundy Trail Parkway opens up to panoramic views of the bay. Take on any of the parkway's 16 lookouts by foot and you'll be rewarded with wilderness vistas in every direction. Build in enough time to fully explore Fundy National Park. From the park's headlands, watch fishing boats depart and return with fresh hauls, then venture into its deep woods on miles of hiking trails. To witness firsthand the power of the tides, visit the Hopewell Rocks—at low tide, you can walk right out onto the ocean floor and stand dwarfed by the reddish sandstone formations that, at high tide, are surrounded by water."
It seems our little secret is out!
/